Back to Blog
International Women's Day Speech - 'Equality today for a sustainable tomorrow'
21/03/2022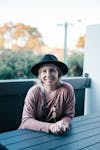 Dr Vanessa Rauland was invited to give a keynote speech today at Curtin University on this year's International Women's Day 2022 theme 'Equality today for a sustainable tomorrow'. Dr Rauland acknowledges there are COUNTLESS inspirational women out there working tirelessly on this very critical issue and says: "I shout out to ALL of you today! Thank you for doing the work you do 🙏🌏🌱" Click here to read the speech!
Thanks for the opportunity to speak today, I feel very privileged to be invited to share my journey and some thoughts on this topic with you. It's such an important topic and one I am very passionate about having worked in the field of sustainability and climate change over the last 13 years.
I'd like to begin by acknowledging the traditional owners of the land on which we gather today and pay my respects to their elders past, present and emerging and also - and on this topic - also acknowledge their vast knowledge and wisdom around caring for our planet. Indigenous cultures around the world have managed to live sustainably on this earth for more than 60 thousand years, so we clearly have a lot to learn from them given that we've managed to catastrophically disrupt environmental systems on a global scale in around 200 years! 
Climate obviously being one of these systems. It's unfortunately timely today to be recognising the importance of addressing climate change, as we are yet again dealing with some of the worst floods and cyclones - the previously once in a century type of events that seem to now be occurring every 10 years or so - and after a summer of more devastating bushfires.
Unfortunately, these climate related environmental disasters have a greater impact on women globally - here are just a few reasons why:
70% of people living in poverty globally are women, making them less financially equipped to deal with the impacts of climate change 
Women's livelihoods are more dependent on natural resources which is being threatened by the changing climate
80% of the approx 21 million people worldwide that are displaced every year by climate change-related events are women 
Women and children are 14 times more likely than men to die or be injured from a natural disaster
While the women most vulnerable to, and impacted by, climate change are from poorer countries, the global gender pay gap (women still earn on average 23% less than men), and the fact that women earn less super, means that even in countries like Australia, when disaster strikes, women are also less financially able to cope. 
So there is a lot of work still to do to address these inequalities.
CELEBRATION
But - we're not here today to dwell on the negatives, we're here to celebrate and recognise all the amazing women globally who, despite the challenges, biases and setbacks, have decided to step up, take charge and lead the way in addressing climate change. There is no shortage of examples globally and locally and I'll mention a few a bit later.
But I'm proud to stand among these women in this incredibly challenging but extremely rewarding endeavour. 
I'm not going to lie, working in this space for over a decade and seeing so little action, is at times, soul crushing. I have immense respect for all my colleagues working in climate change - both men and women - and particularly those that have worked tirelessly for several decades…it takes stamina, a REALLY positive attitude, grit and passion and determination for change.
MY JOURNEY
My journey into climate and sustainability really began when I moved from Melb to Perth in 2009 to work here at Curtin University. I'd just returned from Europe, where I had studied a Masters in Environment and Resource Management, with a specialisation in Energy Studies. It was post GFC, and I was expecting it to be as tough to find a job in sustainability as it was in Europe.
I applied for a personal assistant/admin position at Curtin Uni. While it wasn't my dream job, I thought it might open doors for later. The job was with Curtin Distinguished Professor Peter Newman, a Professor of Sustainability. In the interview, to my shock, he had no intention of hiring me for the position… but instead offered me a role as a Project Coordinator, managing an ARC Research Project he had recently won with Prof Dora Marinova called Decarbonising Cities and Regions. I was also told I had to do a PhD as part of it (to my dismay at the time - I really didn't want to 'study' any more!). But it was certainly one of the best decisions I've ever made. 
Peter and Dora have both been amazingly supportive over the years helping me develop my career in sustainability and climate change.  They pushed me above and beyond what I thought I was capable of. I've presented at conferences all over the world and have met many inspiring people along the way.
Over the course of the next 10 years, I successfully got my PhD, completed the ARC project, supervised numerous PhD and Master students, set up and co-delivered two new units within our Masters of Sustainability and Climate Policy, worked on, and won various research projects, and networked my butt off!
It was during this time here that I also started becoming interested in entrepreneurship. I created my first startup with my friend and colleague Dr Samantha Hall. We found out about Curtin's fabulous Ignition Program for entrepreneurship, and took our initial idea through that. A few years later, we won a Curtin Innovation Award for another idea - Rate My Space and got accepted into Curtin's Accelerate program (a three month bootcamp for startups). In 2018, I won another Curtin Innovation Award for ClimateClever. 
I learnt soooo much from these entrepreneurial programs and activities at Curtin and am extremely grateful for the opportunity to have participated in them. When Curtin became an inaugural partner of Climate-KiC in 2017, I was lucky enough to be involved in helping to deliver some of Climate-KiC's entrepreneurial activities, including the Climathon and the ClimateLaunchpad. 
ON CLIMATECLEVER
I soft launched ClimateClever in 2018 after I won an AMP Tomorrow Makers grant (note to anyone out there with an impact-driven idea - definitely apply for that grant!). That enabled me to develop my MVP of our ClimateClever App for schools.
Backed with a PhD and years of research (which provided me with credibility) and a vast network of business connections that I had made over the years as a researcher, I had the perfect recipe for beginning my new climate-tech startup.
In 2019, I successfully secured my first investment from impact investors over East. This is itself a huge feat, as the odds are again stacked against women entrepreneurs - with less than 3% of global investment going to female founders. 
In 2020, we launched a Homes version of our app to help households reduce their personal carbon footprint. We also launched a Local Government Partnership program to help them measure their community based emissions. Last year we launched the final product in our suite of apps - our business platform. 
This year, to increase our impact, we released a free tier across all of our apps to further our mission, which is: to create meaningful and measurable impact by making climate action affordable and accessible for everyone. You can all now sign up for free!
We now have 13 staff across Perth, Sydney and Melbourne, and thousands of people, schools, businesses and local governments using our app.
ON INVESTMENT
While I am extremely proud of what we've achieved as a team, I've certainly faced my own share of discrimination along the way. One example was last year while I was in the middle of a capital raise and talking to some key investors. Towards the end of the due diligence process, I got questioned - point blank:
as a woman with a young baby, we just need to be reassured that you have the ability to run this company. That you are committed to it. We want to know that you will be putting in the 10-15 hours a day that we expect from entrepreneurs and startups. 
Yep, that's right folks. In 2021. That line of questioning that still exists. I won't dissect that here. But that comment, plus a few other red flags, led me to walk away from that money. 
ON EMOTIONS
Another investor questioned why I wouldn't accept investment from an oil and gas company. They asked me if it was an 'emotional' decision…
If an oil and gas company is taking blatant measures to increase carbon emissions for profit in an era where we have to dramatically reduce emissions, and that leads to more climate impacts that is l-i-t-e-r-a-l-l-y causing people to die (i.e. in the recent floods, bushfires etc) or have their homes and livelihoods destroyed - that IS emotional - and so yes, my decision is also emotional. It is outrageous and frankly, it shocks me that more people aren't outraged. 
Women do make more emotional decisions - and that is a GOOD THING! We view things from a more complex lens - not just purely profit and economics. This should be celebrated! Not criticised. It's a strength and super power. Not a weakness. Hell, if we had more women making decisions, I doubt we'd be in this climate pickle.
Greta Thurnberg - the teenage climate activist - probably had more impact on global climate action in three years than science did in 30 years, because she pulled on people's heart strings. People care about their children and many struggled to face their own kid's questions about climate inaction and why they weren't doing anything. That's emotion and that's powerful.
RECOGNISING OTHERS
Greta is just one of many amazing women out there making a huge difference on climate change. There are way too many inspirational female role models out to list - but here a just a few examples of people who inspire me:
Politicians
Christiana Figueres (previous Executive Secretary UNFCCC)
Jacinda Adern
Angela Merkel
Zali Steggall (Climate MP in NSW)

Aussie female Entrepreneurs
Natalie Issacs (1M women)
Jemma Green (Powerledger)
Katherine McConnell (Brighte)
Kirsten Hunter (Co-founder of Future Super)
Lilly Dempster (One Small Step)
Cat Long and Joanna Auburn (Trace)
Jaine and Ashleigh Morris (Coreo)
Catrina Aniere (Millenium Kids)

Climate Advocates and all round champions
Amanda McKenzie (founder of AYCC, CEO of Climate Council)
Melanie Bainbridge who has worked tirelessly in local government on climate
All my female staff - AMAZING legends that inspire me everyday!
And soooo many more women…
There are obviously a lot of inspirational men out there also doing incredible things to address climate change and create a sustainable future, but it needs to be acknowledged that it's often so much harder for women to achieve the same things, due to so much hidden, and sometimes overt, gender biases.
SUPPORT
However, for the number of setbacks and discrimination I have faced, I have also had many champions who have gone out of their way to help and support me. I'm forever grateful to my initial investor who decided I was investment worthy back in 2019. He chose to not only invest money, but his time in me, work with me, upskill me, teach me all things business, capital raising, and startups.
Professor Newman provided me with an opportunity of a lifetime 13 years ago - one that was left field and which set me on this path. He threw me in the deep end at every chance - made me rise up to the occasion despite all the self deprecating thoughts in my head (we women have a lot of that!). 
My partner decided to come work for me (this is before we were dating lol) even though he knew he could earn better money elsewhere. He believed in me and he provides me with invaluable emotional support every day - commonly getting more angry than me at the gender biases we face as a business!
WHAT YOU CAN DO
There are many things we can all do to support the fearless women who are taking up the gruelling challenge of addressing climate change. 
Look at your sphere of influence - how could you best support a female who is eager to take on the challenge? Can you encourage and support her? Can you provide her with an opportunity or an introduction? Can you buy from her or provide a recommendation for her? Can you tell all your friends about her business/research/endeavour? Can you can finance her? Can you teach her? Pass on knowledge/upskill her? If you are making big decisions that could affect a woman's path, check to see if you have any unconscious bias leading your decision… and call out bad behaviour.
Finally, congratulate and praise women working in this field! It has not been a particularly financially appealing sector to date (this looks to be changing as we see more mandated climate action!), but women are often more driven by their passion and determination for change anyway - but it's a really tough slog sometimes, you have no idea how far a little positive comment can take someone.
IN CLOSING
We need more women AND men working in climate change and sustainability. There are so many different sectors, jobs and opportunities and actions that are needed to help us create a better future and we can all play a role in helping make that happen.