ClimateClever recently welcomed its first 'Homes App Partner', Gaia Resources, an environmental consultancy that delivers responsible sustainable technology solutions to make the world a better place.
We spoke to Gaia's Chief Executive Officer, Piers Higgs, about what motivated him to purchase the ClimateClever Homes App for each of Gaia's staff to use at home.
Why is action on climate change important for you?
When I founded Gaia Resources back in 2004, it was to try to set up a company that could mix up my technology and environmental skills, but also delivers a positive outcome to the environment.  Since then, we've always had the environment at the core of our company here at Gaia Resources, from our purchasing strategies and operational processes to our client base and the support we provide to organisations working on the ground making real positive change.
I had some time in early 2020 to think about what we do as a company and where we want to be in the future, and to look at the threats to our future.  Climate change is one of those threats.  It's something we then collectively decided that it's something we need to step up and do something on, even though we're a small group in the most isolated capital city in the world.  Plus, it'd be nice to see something positive coming out of 2020. Making these changes is important to me, it's important for our staff, it's important for their children - and it's important for our planet.  Without those things, we don't have a company.  So it is obvious for me personally, and for our company collectively, that action needs to be taken.
Why did you support your staff in providing them with ClimateClever Home subscriptions?
As part of the changes around our company under the coronavirus pandemic in 2020, we were forced into working from home as the default method of operating, rather than the optional method we'd had in the past.  As part of this shift, and in line with our future planning, I did some basic calculations about our carbon footprint to look at how that has changed with our team no longer commuting.  The results were eye-opening about how much carbon our team produces getting to work; and so we collectively decided it was time to change our working practices, keep working from home, and put carbon emissions in the forefront of our minds.
So, with us actively reducing carbon emissions by continuing to work from home, I also wanted to support our team in reducing their own home emissions.  This is part of the working from home "relationship" we have with our staff - they work from home and get more time with their families, and as a company, we get benefits from that of reducing our office space.  It seemed obvious to me that we have a responsibility to support our team with the carbon (and other) costs associated with working from home as well.
The ClimateClever Home subscriptions are a great way to put positive action on climate change squarely into the hands of our team at their homes.
What role do you think staff can play in addressing climate change?
I think everyone - not just our staff - needs to play a role in addressing climate change, but right now we're starting with our "tribe" here at Gaia Resources and making it as positive as we can.
The role that our staff can play here is to use the ClimateClever Home subscription to reduce their emissions at home, and to also save money.  If our team can make some better decisions and behavioural changes at home, we hope this will snowball into others doing the same - their friends and families too.
While we're focused on the impacts of working from home with our ClimateClever Home subscriptions, we're also working on how to reduce the carbon emissions from our locations in co-working spaces around the country.  Our staff is also instrumental in supporting those other actions on climate change as we push for positive change across our offices, too.
I hope that our staff becomes ambassadors for this change, and we can start seeing action on climate change radiate out from these first simple steps we've taken collectively.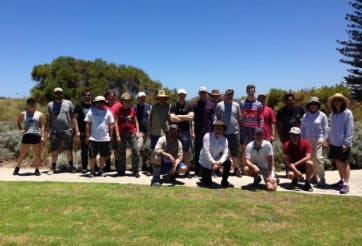 What has been the feedback so far from staff?
We were lucky to get Vanessa to come into one of our regular (virtual) team meetings, and to present on the history of why she started ClimateClever, what it does as a system and how it can support our team members at home - and that was a great way for our team to understand the reasoning behind it and our uptake has really picked up as a result.
Our team is now working on entering their bills and getting started on the "Measure" part of using the app and then starting to create some of the simple actions that are available.  It seems to be going well at this early stage, but we're all learning and sharing ideas and learnings from using the app as we go in our internal chats and discussions.
I guess I'd summarise that the feedback has been pretty positive so far!
What else are you doing in your business to reduce your climate impact?
There are a few key things that we're working on right now, including getting a formal review of our corporate emissions so that we have an evidential baseline to see what our changes will deliver over the coming 12 months.
We're also looking at embracing the working from home and the restrictions on travel so that we (and particularly myself!) don't end up spending tons of carbon flying across the country when a virtual meeting would have sufficed.  That's also stretching out into some other initiatives about making our operations much more climate-friendly, which we're still working on the mechanics, calculations, and certification around.  There's a lot of action going on in this area right now - we will be posting updates on our website and in our blog and social media articles.
I'm really looking forward to seeing what impact we have collectively as a company - including all our reductions at home - over the next twelve months.  ClimateClever will be a big part of our journey - so thank you for helping us to achieve that!