Back to Blog
Will you be a Sustainable Santa this holiday season?
09/12/2021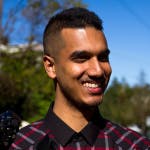 As regular readers may have guessed (yes I am assuming I have regular readers aside from my mum and boss), I am a Grinch. You might even say that I have a 'resting Grinch face'. There are some things I like; watching Home Alone and Die Hard as well as the Christmas episodes of Seinfeld.
And who can go past Jamie Oliver, Nigella Lawson, and Gordon Ramsay's Christmas specials which I will always attempt to replicate a vegan version of. But even as a kid, I struggled with excessive present giving during the holiday season, and we all know that this increased consumption takes a massive toll on the environment.
The wrapping paper, the unwanted gifts, the crappy fruit cake that is burnt within an inch of its life thanks to dad's top-shelf whisky when he's not looking. I know we all like to think we are good gift-givers, but we're not, and I can prove it. A 2016 survey found that there were over 20 million unwanted gifts in Australia with that number expected to rise!! That. Is. Horrific.
So, let's jump into the sustainable actions that you can take this holiday season, which won't result in a lump of coal from Santa or any feigned thanks from your friends and family.
Sustainable gift ideas
If like me, you think Christmas presents are more likely to end up in the bin rather than in use, I highly recommend implementing with your friends and family a 'present policy'. This can be just for you or a group of people, but it can be anything from 'no gifts for me thanks' to 'zero waste gifts only' or even 'the gift of an experience' which can be anything from a dinner to a voucher for an activity you have been keen on for a while. Here is a quick list of sustainable gifts.
Food - sourdough bread, spices, chocolate, chili sauce, or absolutely anything homemade. 
Trees and Offsets - Trillion Trees, One Tree Planted, and GoNeutral all provide gift cards.
DIY household gifts - Soaps, bath bombs, socks, you name it, there is probably a good chance you can craft something yourself other than food.
Audible - While I'm not a massive fan of Mr. Bezos, I am a massive fan of the gifting tool that Amazon has built into their Audible system. Still don't want to give Amazon money? Libro.FM has got you covered and a portion of all sales supports independent bookstores!
Drinks - Temple Bruer, Ross Hill, and Cullen Wines are carbon-neutral wineries. For beer lovers, Yullis Brews and Capital Brewing Co both boast impressive sustainability initiatives.
Plants - Everybody loves plants! Check out Facebook Marketplace or your local plant shop. 
Vouchers/Experiences - If someone wants a game for Christmas, a Microsoft voucher for a digital purchase, done. Check out RedBalloon for any experience you could think of! If you feel a bit weird about vouchers, fear not! Enter the homemade coupon. This can be literally for anything. For example, redeem this coupon for dinner and drinks with me.
Second-hand gifts - There is absolutely nothing wrong with giving someone a second-hand gift. I once got a wine rack from Vinnies for a friend who I knew wanted one and they loved it! 
Purposely sustainable gifts - Banish, Biome, and the Good On You websites can help you there!
Subscriptions (shameless plug) - A subscription to ClimateClever! No seriously. Give the gift of climate action. And because we want to get in on the gift-giving action - we're actually giving you a coupon code so you can sign up for free! And you can share it with your friends and family. Who Gives A Crap, Binge, Netflix or Soulara would also make great sustainable alternatives.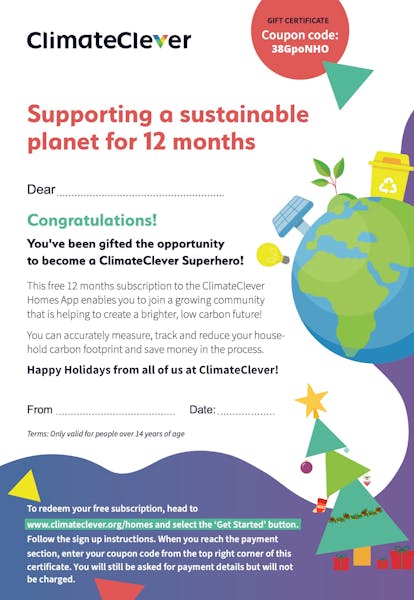 Wrapping and cards
I can't remember the last time I bought wrapping paper. It is kind of like filling up a watering can with fresh water. Why would you do this when there is an easier alternative? Use your toilet paper wrappers (WGAC is perfect), old newspapers or just an Uber Eats bag. Remember, no tape wrapping for the win! 
As for the cards, I just write my message onto the gift paper or bag. Other options include making a card from the goods in your recycling bin or even sending an e-card.
Lights, batteries, and decorations
Re-use old lights instead of buying new ones. If you do need lights, look for low-watt options and those that are second-hand. If you need batteries, opt for rechargeable batteries. Yes, they cost more upfront but they save you money in the long run and you can still recycle these with Aldi and Officeworks.
For decorations, again second-hand markets and your family will have plenty, otherwise, make your own!
The tree
You want the real deal! Why? Well, that fake tree is made of plastic and has a far greater carbon footprint. Always opt for a locally-sourced tree or even a rentable Christmas tree. Better still, make your own wall tree or one out of old wood like our CEO has done this year!
Getting around
"Why can't this muppet pick a lane!!" Yes, Christmas day is a very busy and stressful time on the road. Carpool with friends and family where you can and pick a central location that requires minimal travel. In Australia, it's not cold, so walking or jumping on the bike could be on the cards.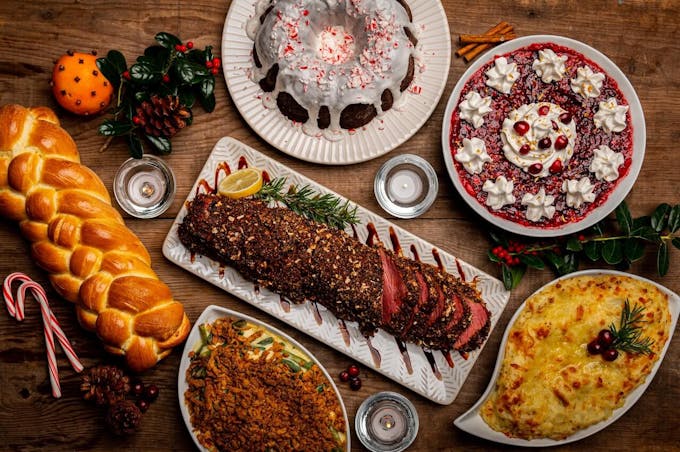 Love food, hate waste
Why do we eat so much at Christmas? Traditionally, religious festivals have always been marked with a feast but usually preceded with a period of fasting. Back in the old days, meat was hard to come by, so overindulging with the family was a special occasion.
If you do choose to cook turkey this year, PLEASE do it justice. "Turkey is soooo dry", yeah, if it is not cooked properly. This leads me to the topic of food waste, which at Christmas increases by over 30%!! Here are 5 quick tips to minimise food waste this Christmas.
Know your numbers and don't go overboard
One or two main proteins is MORE than enough
Freeze those leftovers, you'll have full tummies for weeks
Swap out meat where you can for vegge or nut roasts
Bring a reusable container, you're going to need it
A time of giving
Christmas is a time of celebration. We get to spend time with the people we love and the environment shouldn't take a hit for that. We don't need to give up our holidays, but there are plenty of small actions we can take to do our part.
It is also a time to give back. Consider a donation to charities such as the Food Bank, Salvation Army, or Vinnies. The season of hope means we must inspire everyone close to us, to not give up on each other and the planet. There is still hope for us yet.
From all of us here at ClimateClever, it has been a wild ride of a year, I don't think anyone can deny that! Have an amazing, restful holiday season, stay safe, recycle and we will see you in 2022 for what will hopefully be our biggest year so far!