It's March, one of the most popular months of the year in Australia to get married, and I have been thinking about this because as of 2022 I have been with my partner for 8 years! It is fair to say, people (especially from grandparents) are starting to wondering when I am going to pop the question 🤯
I have a very interesting relationship with weddings. I used to work for a photobooth company so I have attended more weddings than the average person. On the whole, while every wedding I attended was a celebration of love, family, and new beginnings, they ALL were some of the most wasteful events I have ever attended. 
From unnecessary plastic-wrapped gift bags to destination venues and of course, photobooth photos that cannot be recycled, I have seen it all. One website I found during my research suggests that a single wedding can equal the carbon footprint of 5 adults for an entire year!
Despite all this, I still think weddings are incredibly important and yes, I am going to have one sooooonnnnn-ish. So fear not, for we are not here to enter the shame spiral! Here are all the ways you can make your special day, even more special for the planet.
One ring to rule them all
From lab-grown diamonds to recycled rings there is quite a large spectrum for the big decision. While some may feel it's traditional for this aspect of a wedding to be very secretive, there is nothing wrong with chatting with your partner about what they are interested in. If you have a jeweler or even a sustainable ring designer nearby, give them a call and discuss the options. A good friend of mine proposed with a wooden ring, he carved HIMSELF, from a tree branch he collected on a walk he and his partner went on. Damn, now that is true love.
Don't go George Costanza with the invitations
Now I love a good dealio as much as the next guy but we don't want cheap adhesive glue taking out anyone before the wedding. I really don't like invitations, an unpopular opinion I know but, think about it. Fridge decoration to the bin. That is the life span of the invitation once you open it. There are many websites you can use for digital invitations, which can be just as beautiful and creative, such as Paperless Post. It may feel weird at first, but your wallet will thank you later.
Location, location, location
Sometimes we can't have the dream. I would love to get married in New Zealand (nothing to do with my love of Lord of the Rings I swear) but apart from the fact this would be insanely expensive, the carbon emissions would be through the roof. I really want to get married in nature but finding something affordable close to the city can be a tall order. It is your special day, so you can ask as many questions as you like. A quick Ecosia search will reveal nearby sustainable venues and it is always worth asking if your venue of choice has solar power/uses green power and how they reduce their waste.
Wineries, botanical gardens, and farm weddings are often all over this but can be a bit further away. Being close to a train line or hiring an electric bus can help you out here. Where this isn't possible, organise a carpool roster, and speaking of cars, what is the deal with getting out of the Rolls-Royce? Insanely expensive and an eco no-no. If you don't have a mate with a nice car you can borrow, hire a Tesla through Evee. Cheaper, cleaner, win.
Go 'uncle mode' on the gifts
This one is easy: Wishing Well. No crappy gifts have to awkwardly be returned or given to the shop. You can invest in things you ACTUALLY need for your new life together. You can also ask for donations in your name or carbon offsets.
6 dresses are too many
I kid you not, one of the weddings I worked the bride had SIX different dresses and I got the vibe they were all brand new. Again, there is an easy solution for this: rent. I rented my first suit this year and it was an unbelievably smooth experience. No ironing or wrong sizes, everything is sorted for you including the dry cleaning.
On the make-up front, if you are having your make-up done professionally, opt for a location with sustainable and chemical-free options. The same goes for if you are doing your own make-up, opt for locally produced and ethical products.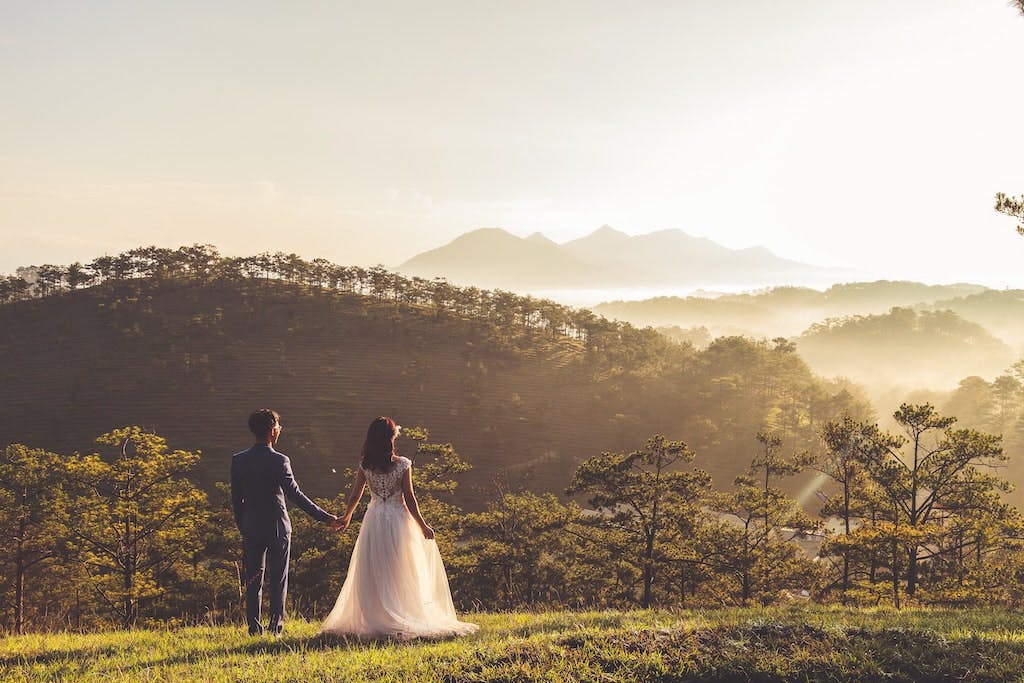 $100 for a wedding worth of flowers
Yeah, that is correct, it can be done! The best example of sustainable flowers I have seen was for a wedding where the groom paid a friend $100 to cut down a gum tree branch from his property and they used the leaves and stick to dress the tables and it looked fabulous. This could be a bit extreme for some, so opting for succulents, natives, and other low-water local plants will help you out here, as well as chatting with a florist who works with seasonal arrangements. 
Work with a wedding planner to arrange the plants in such a way that you don't need as many but they still make a big statement. I worked at a wedding where I pointed out a giant flower arrangement to a guest who said 'wow I didn't even notice that', which highlights the fact that less is often more.
Built-in decor 
A great tip I read online to avoid buying all those odd bits and pieces that get thrown away after your wedding is to pick a venue that has what is called 'built-in decor'. For example, a winery often has stunning backdrops, lovely furniture, and all manner of optional extras. Using nature and the location to frame your photos and mood for the night will save you and the planet a bunch.
The best bit, the food
Yes, yes, I am here to celebrate the love of my oldest and dearest friend…but if the food isn't good, well, let's just say people will remember. We all love the food at weddings, don't you try and deny it! The thing is, the old 'beef or chicken for you darling' is both outdated and has the biggest impact emissions-wise on your wedding. 
Now I am bias. My partner and I are having a vegan wedding, obviously, but the food will be so tasty no one is going to notice. 'Luke, good for you, but I want meat at my wedding'. Ok, thats fine, but we don't need it in every course and we certainly don't need red meat. If you are opting for meat, chicken and kangaroo (exception for red meat) are your best options but props to you if you can pull off a vego feast, power to you! There are so many amazing catering companies these days they can do whatever you want, including plant-based meat that even the most cunning meat lover won't spot.
Ask if your venue composts food waste and uses takeaway containers (Biopaks, NOT plastic) with all the leftovers for your guests as they are leaving for the win!
Time together
Solution for the honeymoon, well this is a tough one. You might be thinking of going to the Hunter Valley for your honeymoon, or Kangaroo Island, or maybe even Japan or Europe! 'Luke, that is hypocritical, shouldn't you be camping in your backyard for your honeymoon!' An excellent point, but sustainability isn't about perfection, it is about doing the best you can. 
I think everyone is entitled to an amazing wedding day and a honeymoon wherever they can afford to go, but my view is that making your wedding as sustainable as humanly possible means you can feel less guilty about your honeymoon, whether that is down the coast or on the Amalfi coast, offset of course.
Regardless of what you choose to do, make your wedding a day to remember, and you may even inspire some of your guests to make more sustainable decisions in the future 💚