This time last year, it would have been hard to believe that the 2020 Olympic Games would even be going ahead. With a global pandemic locking down the entire world, vaccine rollouts falling apart, pushback from the Japanese public, and athletes having nowhere to train (I barely get my 5 laps of the local park done, imagine being an Olympic powerlifter stuck in an apartment!), when the torch was lit ablaze last week, it really did feel like a miracle.
While the Olympics is a sporting event like no other, it does create certain problems. For one, hosting the Games is an incredibly expensive endeavour and historically tends to go over budget, which has resulted in fewer countries raising their hands to host in recent years. And as with many costly projects, the Olympics also has a massive carbon footprint. There are many factors for this, ranging from new sporting venues to the thousands of flights bringing in athletes and the travel requirements within the host city for both spectators and those competing. 
The Tokyo Olympics has made headlines for some of its sustainability initiatives, which are in line with the International Olympic Committee's (IOC) 2020 agenda, sustainability being one of the three key pillars.
Sustainability at the 2020 Games
From carbon credits to cardboard beds, to reused venues, there is a lot to report on for the current Olympics games in terms of sustainability efforts. I have highlighted some of the most exciting initiatives below taken from the IOC website. There are also many progressive social initiatives as well, such as Pride House Tokyo but I will be focussing on the sustainability points in this blog post.
Metals salvaged from nearly 79,000 tonnes of smartphones and other electronic equipment donated by the Japanese public – known as "urban mines" – have been used to make the 5,000 Olympic and Paralympic medals.
A focus on temporary structures and reusing existing venues as well as post-games plans to convert venues into small towns including shops, schools, and flats.
Much of the energy for Tokyo 2020 comes from renewable sources and where this is not possible, carbon credits have been purchased.
Organisers have hired much of the equipment rather than buying it which will be returned and reused after the Games finish.
Athletes will sleep on 18,000 beds made from recyclable cardboard that can support up to 200 kilograms! Even the mattresses can be recycled into plastic products.
It is great to see Japan pushing these strategies forward and hopefully, these initiatives will become standard at all future Olympic events.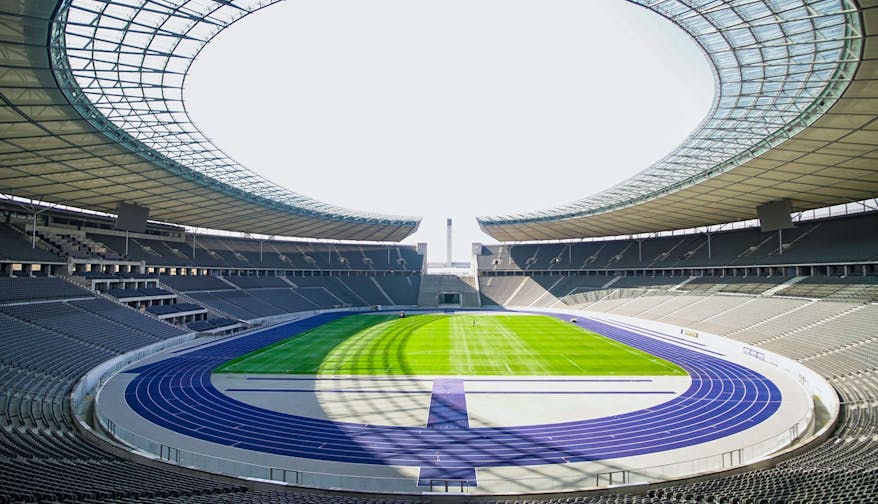 The elephant in the room
The biggest problem when it comes to the Olympic Games and its environmental footprint is the size of the event itself. As the event continues to grow this means more flights, more construction, and more resources. While it would be very controversial to some, scaling down the Games would be more manageable and produce far fewer emissions.
In recent years, one of the biggest arguments has been the idea of one city or a small group of cities hosting the games on a rotating basis. This would reduce both the economic and environmental burdens for many nations. 
A recent study has shown that this year's Olympics aren't in fact as environmentally friendly as we would like to think, with Tokyo ranking third from the bottom of the 16 Olympic Games involved in the research. Coupled with this, the Tokyo Olympics, while introducing many recycled products did not introduce a complete plastic ban, and the use of carbon credits has come under fire. This is for the usual reasons that while offsetting the Games is very important, it sends a message that 'we know we are polluting but buying offsets makes it ok'.
This is a firm belief we have here at ClimateClever. Reduce your carbon footprint as much as possible first, and then purchase certified credits for the emissions you cannot avoid. We have several ClimateClever businesses working with us who share this vision!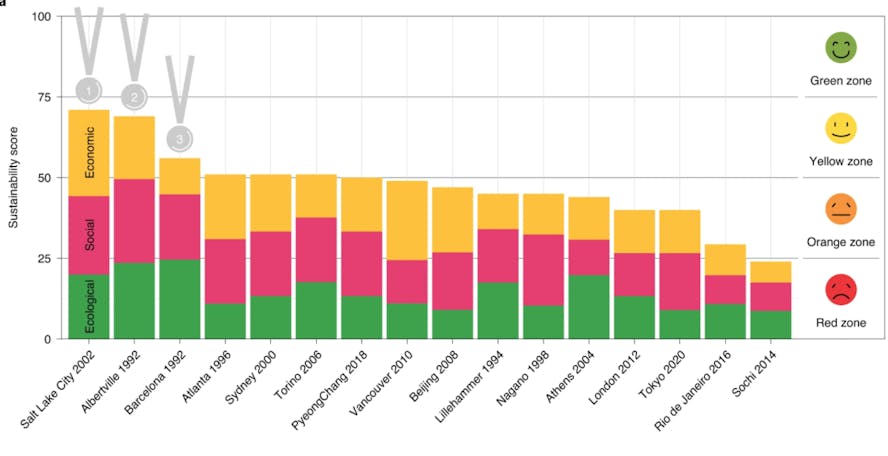 Now, I don't want to be Captain Negative News, we receive enough depressing information on a daily basis as it is. Who am I to talk? It is hard enough to organise a plastic-free dinner party for 8 people, imagine organising a 16-day sustainable sporting event for thousands!! We should cut them some slack.
The Olympics unites countries on the sporting field, rather than taking place on the battlefield, and all the athletes must be commended on their efforts for being selected. The traditions of the Games are hundreds of years old. It is simply an example of a fantastic human creation that has the opportunity to inspire with its sustainability initiatives rather than sweep them under the rug. 
Looking to the future
We are already seeing progression for sustainability standards as Brisbane was recently selected to host the 2032 Olympic Games with a view of being the first climate positive Olympics.
What does this mean? According to a recent article published by the Climate Council, "A 'climate positive' Olympics describes an Olympics that doesn't settle for reducing its emissions to zero and offsetting those emissions it can't avoid (carbon neutral), but goes further to absorb or remove more than it produces to become 'carbon negative'—a synonym for climate positive."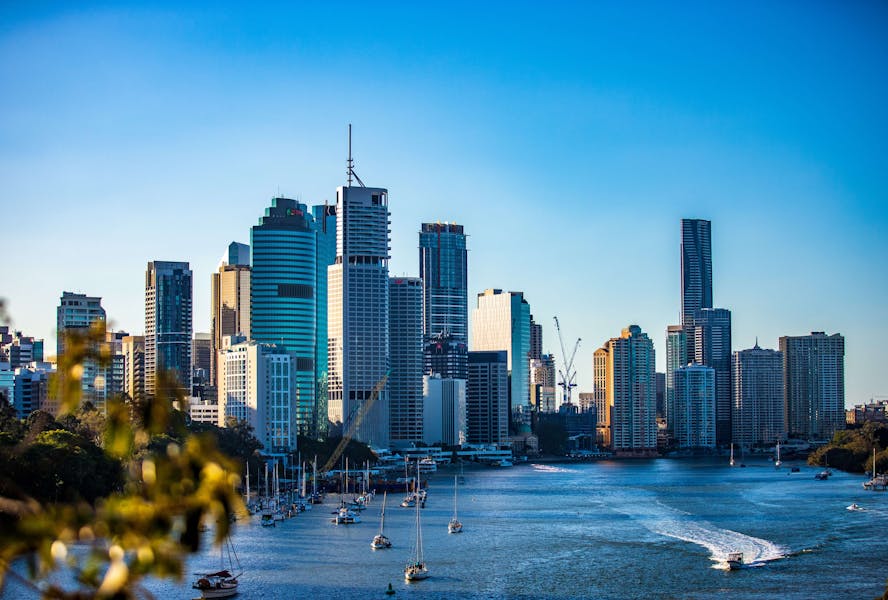 Some big initiatives for the Brisbane Games are sourcing power from 100% renewable energy (also implementing battery storage), using existing sporting venues and accommodation (with new infrastructure as a last resort), and reducing travel through virtual meetings and clean public transport.
There are rightly some big concerns surrounding the cost of hosting the games outlined by the ABC, due to the history of going over budget as I mentioned earlier. Nonetheless, this is a great opportunity for Australia to step up and show the world what a sustainable Olympic Games can really look like.
The Olympics is one of the few global events we have that unites over 200 countries, with planning beginning years in advance. If we can apply the dedication, foresight, and strategy that we have for sports to the current climate emergency, then maybe we can celebrate achieving our climate targets decades ahead of schedule, while lighting the torch in 2032.